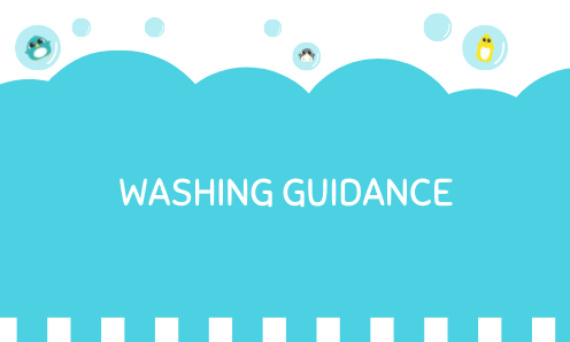 The topic of taking care of diapers and inserts is very often discussing in cloth diapers society. Parents who wants to try cloth diapers are wondering if washing them is hard and time consuming.

No, it is not! Just follow the guidance and Your cloth way will be nice and smooth.

Storage – diaper without solid impurities may be storage in a container or PUL wetbag. Do not add essential oil. Diapers may be storage no longer than 3 days.


Washing:
- Put rinsing and spin before the main washing.
- Main wahsing on 60°C with a wahsing powder for white containing oxygen bleaches + sanitizer. Always use full dose of detergent and dose according to the information on the packaging.
- Rinsing and main washing shouldn't last longer than 2.5 h. We do not recommend a synthetic programme, because it use not enough water.
- If You see a foam after washing, add additional rinse.
- The spin should be adjusted to the recommendation of the diapers' manufacturer. Usually it is between 800-1200 spm.
- It is really important not to overload the washing machine. The laundry shouldn't be more than 75% of the washing machine capacity.

Drying –many diapers can be thumbled dry. Just remember to comply with the manufacturer's recommendation. If You dry traditionally, just remember that heavy diapers like AIO shouldn't be hanged vertically – it badly influences the rubbers.

What NOT to do with Your diapers:
- Never wash diapers with soap, wahsing nuts or balls and hand made washing powders. It is the simplest way to have dirty and distroyed diapers.
- Do not dry PUL diapers on the radiator.
- Do not iron the diapers.
That will be all. We hope this recommendation will help You take good care of Your diapers.